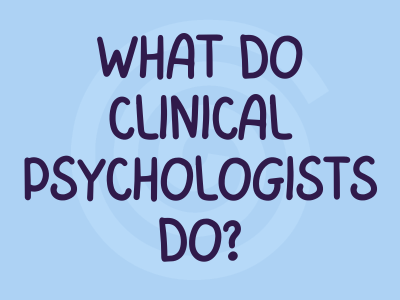 Find out exactly what a clinical psychologist does. Here are some commonly asked questions regarding the role of a clinical psychologist in New York City.
What is the role of a clinical psychologist?
A clinical psychologist works with people to improve their social, emotional, mental and behavioral problems. First, a clinical psychologist conducts an assessment of the problem to arrive at a diagnosis via interviews, observation and sometimes psychological testing. Next, they create a treatment plan with the client and help them to identify goals that the client wants to work on. Then, the clinical psychologist carries out psychological treatment to help the client achieve the goals. Progress is monitored over the course of treatment.
I have been conducting psychotherapy in New York City for over 20 years. One benefit of being a clinical psychologist, as opposed to other types of therapists in NYC, is that my clinical doctoral training in assessment and diagnosis tends to be more extensive than what is offered in most other mental health degree programs.
Some clinical psychologists do research, teach or consult for organizations/businesses to solve systemic and individual issues.
Is the job of a clinical psychologist in New York City different than that in other places?
The role of clinical psychologists in New York City is generally the same as that in other parts of the country. However, there are a few subtle but important differences when compared to clinical psychologists in New York State or other places.
First, in NYC clinical psychologists tend to be more trained in working with people from diverse backgrounds. The amazing diversity of NYC's population necessitates that New York City clinical psychologists have an added sensitivity to people with alternative lifestyles and varied backgrounds.
Second, the fast-paced speed of everyday life, the noise, the lack of space and the general pressure to achieve success makes New York City a challenging place to live. As a Manhattan clinical psychologist, I am frequently helping people manage their career achievement needs and the stress generated from wanting to "make it big" here in New York. As a result, I have the honor of working with some incredibly ambitious people who are changing the world.
Third, it is my belief that a New York City clinical psychologist also helps people cope with the lack of a sense of community in the city. Other parts of the country have more of a community feel. The absence of community creates the potential for feeling a sense of emptiness, isolation and loneliness, especially when you are new to NYC. A clinical psychologist in New York City who has been in practice for a long time must know how to help patients cope with this kind of challenge.
Please note that other kinds of NYC psychotherapists with lots of clinical experience also learn to help people manage the unique combination of isolation and pressure found in New York City.
What is the Difference Between a Therapist and a Psychologist?
A therapist is a generic term for any mental health clinician who meets face-to-face (or online) with patients to alleviate their emotional suffering. Be careful though. There are also many types of therapists that are not associated with mental health, such as a physical therapist, speech therapist and occupational therapist.
A psychologist is a type of therapist, one with the most rigorous training out of all the types of mental health therapists.  Psychologists tend to have more years of clinical training and more hours of supervision and clinical experience even before they graduate from their program.
How long does it take to become a clinical psychologist?
In order to become a clinical psychologist, you need to complete your Bachelor's Degree first. Some clinical psychologist also complete a two-year Master's Program in Counseling or a related mental health field before their clinical psychology doctoral program. However, clinical psychology doctoral program students are awarded a Master's Degree after two years and them they continue on for their doctorate.
Overall, a doctorate in clinical psychology can take between 4-7 years, sometimes even longer. There are three years of graduate classes during which doctoral students are completing supervised clinical training (aka externships) in various mental health settings, such as a hospital, clinic or school counseling center. Once the coursework is complete, the doctoral student has to complete a one-year internship in an accredited mental health setting. After the internship the doctorate is awarded. Then the new psychologist must complete  about 2000 hours of post-graduate training before receiving a license in a particular state. Please note that the information provided here varies greatly across states in the US. Please see here for more on the topic.
What is the difference between a psychologist and a clinical psychologist?
A psychologist is a general term for a professional who went to a doctoral program in psychology. A clinical psychologist is an expert in the human mind that attended an accredited doctoral program in clinical psychology. Clinical psychologists also work directly with human subjects. In other words, clinical psychologists work with clients. Other non-clinical psychologists may draw from the same knowledge based but they do not necessarily work directly with clients.
There are other types of psychologists, including industrial psychologists, social psychologists, forensic psychologists and sports psychologists.
Do you need a doctorate to be a clinical psychologist?
Yes, you need a doctoral degree to be a clinical psychologist. You can get a Doctor of Psychology (PsyD) degree or a Doctor of Philosophy in Psychology (PhD) degree in order to be a psychologist.
In some mental health settings, I have seen people loosely use the word "psychologist" to refer to the mental health clinician on staff regardless of their degree, but the true definition of the role implies earning a doctorate in psychology.
What is a PsyD ?
A PsyD or Psy.D. represents a "doctor of psychology," which is a practitioner's degree in clinical, counseling or school psychology). In contrast to a PhD, the training you receive at a PsyD program tends to involve more clinical training and more hours of supervised face-to-face interaction with patients. There are probably exceptions. Phd programs in clinical psychology tend to have more of a research focus. While a lot more PhDs are hired for teaching roles, PsyDs are hired as well in universities.
In my PsyD program I received extensive training in clinical psychology, conducted hundreds of hours of supervised psychotherapy AND I wrote a PhD-level dissertation. It was not my original intention to create such a mammoth dissertation, and you generally do not have to write a huge dissertation in a PsyD program. It can be a more contained project.
Is a clinical psychologist a doctor?
Yes, a clinical psychologist is considered a doctor of psychology (not to be confused with an MD, or medical doctor.
What is the difference between a clinical psychologist, a clinical social worker, a mental health counselor and a marriage and family therapist?
A clinical social worker (LCSW) helps people to cope with emotional, behavioral and mental issues, but the training does not include as much emphasis on assessment and diagnosis as compared to a clinical psychology doctoral program. Many LCSWs take their education a step further by attending extensive training programs in specific areas following the completion of their clinical hours for licensure. Social workers receive impressive training in understanding and navigating through various systems that interact with the individual. See here for more on this degree.
A mental health counselor is a Master's Degree in Mental Health Counseling. See here for more on this degree.
A marriage and family therapist (LMFT) is a specialized degree that focuses primarily on marital and family counseling. There is also training in individual therapy. See here for more on this degree.
What is the difference between clinical psychologists and psychiatrists in New York State?
A clinical psychologist is a PhD or PsyD helps alleviate emotional suffering via various forms of talk therapy.
A psychiatrist is a Medical Doctor (M.D.) who went on to specialize in psychiatry. Psychiatrists tend to work with people who are grappling with more serious forms of emotional suffering, but not always. Some psychiatrists also conduct psychotherapy. They tend to lean toward medication as the solution for emotional problems.
Clinical psychologists in New York State are not permitted to prescribe medication. Nor do they do not receive any formal training in prescribing medication.
Thank you for taking the time to read this. Please feel free to reach out to me with any questions about the field of clinical psychology or to get started in therapy.
Learn More